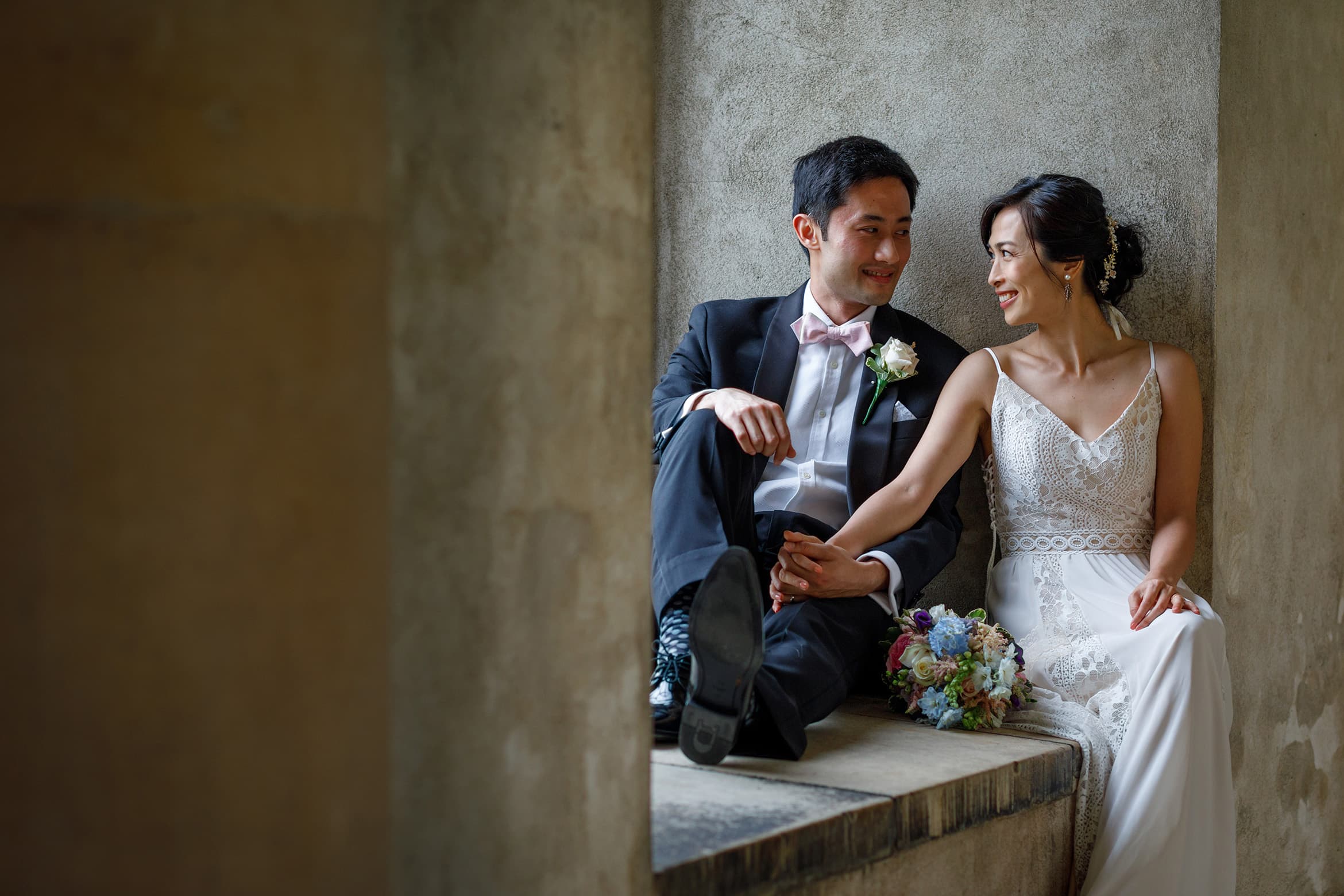 Trinity College Wedding Photography - Angella and Geoffrey
Trinity College Wedding Celebration
So this one isn't strictly a wedding – we've got a bride, we've got a groom, we've got guests and a stunning backdrop – but no wedding ceremony. This was in fact Angella and Geoff's third wedding celebration. They were married in Toronto, held a family celebration in Hong Kong and today was a Trinity College wedding party for their friends and family in the UK (and further afield).
The previous week had seen a new record set for the UK's hottest day ever. 38 degrees might have been a little uncomfortable for a wedding day but by the weekend the temperature had cooled. Unfortunately, this also brought some rain so we started the day under umbrellas. Luckily Trinity College is well equipped for a wet wedding day and guests gathered in the cloisters of the Wren Library to enjoy some welcome drinks and greet their bride and groom.
The rain stopped just in time for a group photo of everyone on the Tribune steps before everyone was seated in the Trinity dining hall for the celebration lunch. After the lunch, Geoff and Angella gave a short speech of thanks before guests left in groups for the most Cambridge of activities – punting tours! A brave call on such a wet day but again our luck held out and the weather turned warm and bright.
Of course, everyone else in Cambridge decided it was time to get on the river as well and the River Cam was pretty packed by the time Angella and Geoff got to their punt. Their friend Seigo was an old hand at the helm of a punt and he piloted us through the crowds with ease, I'm not so sure on his line through the tree however 😉
We made a quick trip to the Trinity college bar where their guests were relaxing. I often keep an eye on the weather radar on wedding days and I spotted a large lump of rain heading our way. A few quick hellos and we nipped off again into the Trinity College grounds for some couple portraits the rain came in again.
Congrats Angella and Geoffrey!