At the last wedding we went to the photographer had everyone standing around forever taking group photos!
I hear this a lot when I speak to guests at weddings. It's difficult to know whether this was the fault of the photographer or the couple they were working for. I recommend that you try to keep the number of family and friend group photos below 10 if possible.
Your wedding day will pass by in a flash, even more so if your drinks reception is taken up with an endless list of group photos.
But it's your wedding, your call. If you want to give me a list of 40 groups that will take a couple of hours to shoot I'll be happy(?) to photograph them for you.
---
I don't like having my photo taken!
You're not alone! Over the years pretty much every client I've photographed has said the exact same thing. After their wedding, every one of those clients has told me how much they love their photos.
Most photos that people see of themselves will have been taken by the friends and family, usually with a phone camera, maybe when they are a little drunk, and with little thought by the photographer to whether it's a flattering angle / look / light / expression.
My career succeeds or fails on these considerations.I'll give you photos where you look your best and the majority of the time you'll not even be aware that you are being photographed.
---
We love black and white photos, can we have more of those?
Before the wedding I'll ask you for your preference, some clients prefer more colour photos, some prefer more black and white.
Most clients choose to go with the mix of photos they have seen on my website. In summer there are lots of opportunities to give you vibrant colour photos from more of the day. In winter we might spend more time inside under artificial lighting – these photos often look better in black and white
---
Will you to travel to our wedding, we see you're a Norfolk wedding photographer?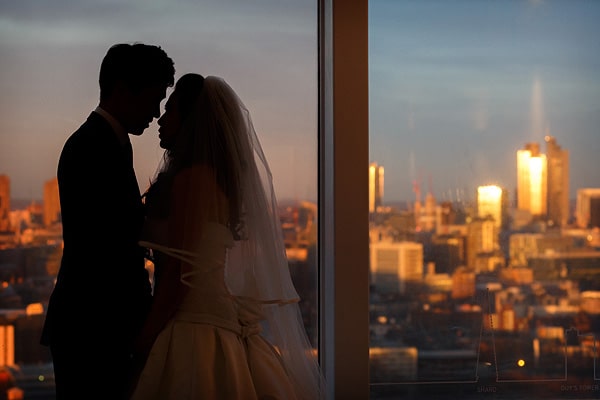 Although I'm based in Norfolk I've always been a national photographer and occasionally international for destination weddings.
I relish working in new locations, so I'm happy to travel wherever you would like me to. Working in a small number of purely local venues would drive me a little potty over time! For weddings over a couple of hours drive away I'll travel the day before and spend the night locally to avoid any traffic complications on the day of your wedding.
---
Do we need to give you a list of photos to take?
Before your wedding, I'll ask you for an itinerary of your day and a list of the family groups that you would like photographed. This will give me all the information I'll need to photograph and produce the story of your day.
Many wedding magazines and websites like to produce 'helpful' lists of shots to give to your photographer. My photography is led by the actual events of the day, not a shopping list of photos that might happen. If I'm looking at a list I'm not looking at your wedding.
---
How soon will we see our photos?
My aim is to present you with a preview selection of your photos on my website within a week of your wedding. You'll see the finished full set seven days later.
In busy summer months where I might be shooting more than one wedding in a week these deadlines can slip by a day or two, but no more than that.
What happens if it rains?
Your wedding will go on regardless. I'll carry on shooting regardless!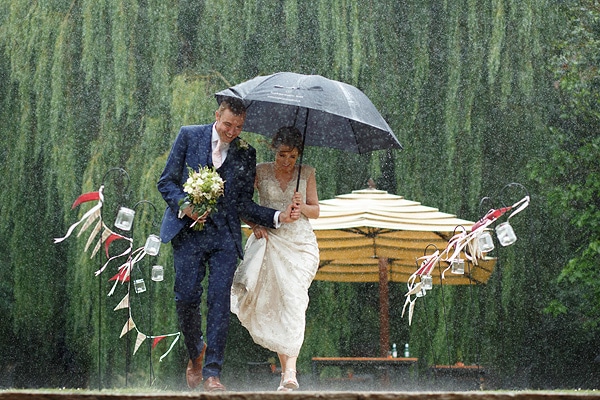 If we are stuck inside all day I bring lights so that you are guaranteed to still receive a great photographic story of your (wet) wedding day.
---
Do you bring an assistant?
I work alone. Because of my documentary approach I work light and don't need anyone to carry my bags, or hold reflectors or mop my brow.
For a time I experimented with taking a second photographer to weddings thinking I would be able to be able to get a second point of view and provide a better service to my clients. I found I got more angles, but not necessarily better photos.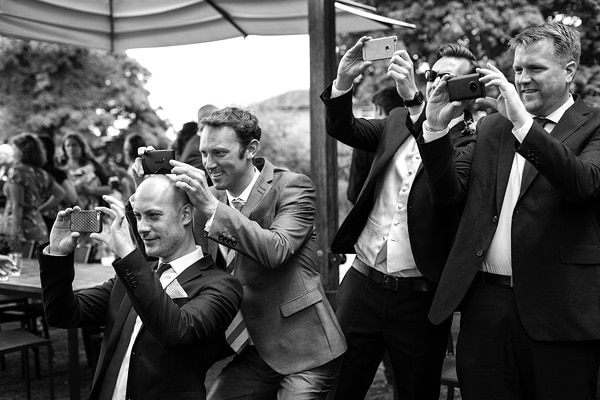 The more photographers at a wedding, the more you and your guests are aware they are there. Working solo I can mingle with everyone more easily and get the shots I want.
Guests often ask me if I am a friend of the couple – this familiarity can be lost when part of a shooting team.
However, if it's important to you I'm happy to hire a second photographer to work with me at your wedding.
---
What time do you start and finish?
It's entirely up to you. I normally recommend starting a couple of hours before the ceremony time to get a representative story of your preparations, and most couples like me to stay for the first hour or so of the dancing in the evening.
---
Are there any hidden extras to pay?
None at all.
---
What happens if you are ill? Who will take our photos?
I am part of an invite-only group of around 80 great photographers that I meet and network with on a regular basis. We look out for each other.
If for some reason I am incapacitated, I would put out a call to this group.
The system works, over the last 10 years it has been running as a group we have never had a wedding coverage missed by one of our members. I've stood in for several other photographers in that time and I know they've got my back should I need them.
---
Have you always been a photographer?
No, I've spent my time on the corporate treadmill working my way up to a senior management position. Looking back, the higher I got on the ladder the unhappier I became. My time in management taught me a lot about observing and understanding people that I still apply to my photography today.
I bought my first 'proper' camera twelve years ago to take on honeymoon to Thailand. I shot 11 rolls of film in two weeks and at the time thought this was a ridiculous amount of photos. But I was hooked.
When I was made redundant a couple of years later so many people told me to take up photography professionally and I listened to them. I set up my own business in 2004, shot 25 weddings that year and I've never looked back. I couldn't imagine myself as anything other than a photographer now, I get a buzz from it every day.
---
How do we book you?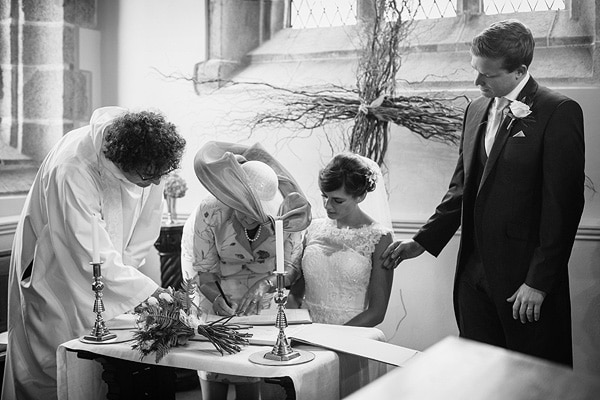 Let me know you would like to reserve the date and I will email you a contract to complete and send back to me with a £500 retainer. Once I have received both your day is booked and I'll stop taking enquiries for your date. The balance of the fee is due one month before your wedding date.