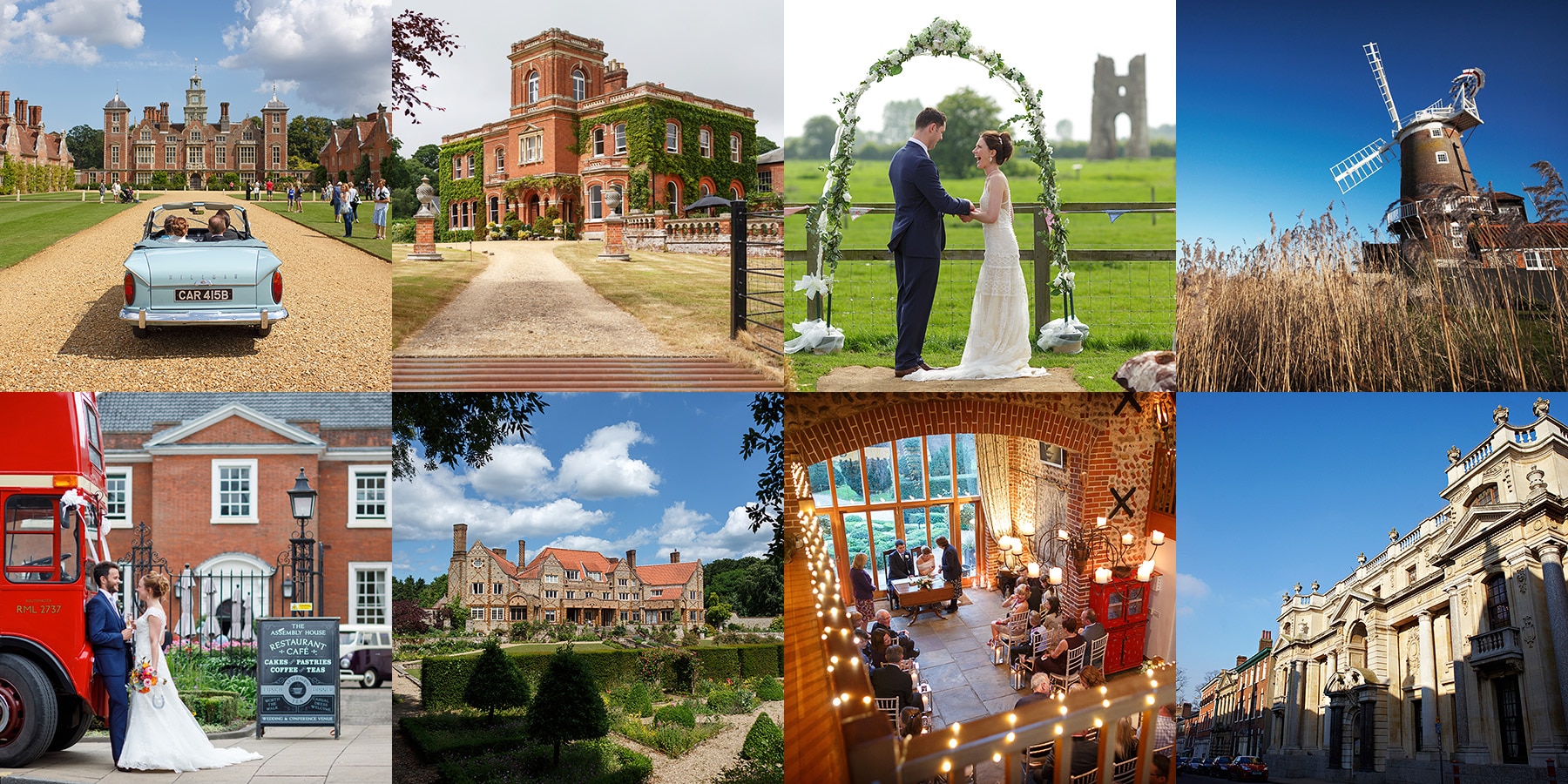 The Best Norfolk Wedding Venues
The best wedding venues in Norfolk
I've photographed weddings all over Norfolk for many years and there are a host of fantastic venues for you to hold your wedding at. But which are the best Norfolk wedding venues from a wedding photographer's viewpoint?
I have put together this little list, in no particular order, of some of my favourites and I think you'll find something here to suit every style, size and budget of wedding. Needless to say, they all provide fantastic opportunities for wedding photography, each with their own individual character.
I'll start this big list with the smallest venue as it's close to my heart. And my wife Suzanne's heart – we got married ourselves at Cley Mill in 2011! The mill is on the North Norfolk coast in the beautiful village of Cley-next-the-sea and is best suited to smaller weddings up to about 25 people. I've photographed lots of these smaller weddings at the mill, and a few elopements there as well with just the bride and groom. The village of Cley itself is very pretty and the beach is only five minutes away by car for more photo opportunities.
I love photographing weddings at Gunthorpe Hall, it's one of those places where you get the feeling you've borrowed a grand family home for the weekend – which of course is exactly what you've done! The decoration is eclectic and authentic, this isn't some polished, soulless wedding venue like so many. There's accommodation onsite and for larger weddings, a marquee can be attached to the main house. The grounds are expansive and beautifully kept with a peaceful tranquillity to them. Gunthorpe is definitely one of my favourites and a worthy entry in the best Norfolk wedding venues.
We're moving in from the Norfolk countryside for the next venue into the very centre of Norwich. St Giles House Hotel was extensively renovated a few years ago and is one of the most luxurious places to stay in the city centre. The whole hotel has a baroque / art deco feel to it and weddings here always seem to have a great vibe to them. Chapelfield Gardens is just up the street for couple photos or for the more adventurous couples mixing it up with the public in Norwich city centre can result in some great shots.
Godwick is very much a blank canvas for the bride and groom looking to put their own stamp on a wedding. It's a huge and ancient barn lovingly restored to provide plenty of space for wedding ceremonies, receptions and parties. The beautiful hall alongside the barn is a tranquil spot for brides and grooms to prepare in the morning and for guests to stay overnight. The Hall can also be hired for smaller events. Set in open Norfolk countryside the skies and sunsets can be spectacular here and it's a great spot for an outdoor ceremony if the weather is being kind. Quite a magical spot.
There aren't that many places that can claim to be truly unique, Voewood is a wedding venue that certainly can. Found near Holt in North Norfolk, Voewood is an Arts and Crafts style country house set in exquisite grounds and inside contains perhaps the quirkiest collection of contemporary art of any Norfolk wedding venue. Every room is a talking point and no matter the size of wedding there are so many areas inside and out for guests to enjoy that it never feels cramped. The grounds are stunning, the rooms are stunning, the staff on point. Voewood ticks all the boxes and then some.
Tucked away in the wilds of North Norfolk, Chaucer Barn is another one of those cosy venues where you can feel like you've taken over someone's elegant home and gardens to host your wedding. They offer a wide variety of options for your wedding – indoors, outdoors, marquee, woodland, the choice is yours. Set in four acres of grounds this elegant barn conversion is yours to make your own and the fantastic staff will help you craft a unique wedding day in a fantastic setting. Rated as one of the best venues in the UK it easily gets a place on my best Norfolk wedding venues list.
If you're looking for a grand country estate wedding then look no further, Kimberley Hall makes a fantastic first impression as you arrive via a tree-lined avenue through a parkland designed by Capability Brown. The ceremony room is as elegant as can be and once you're married the grounds are beautiful and expansive with views that go on forever. In the evening the West Wing of the hall has been specially designed and renovated to cater for weddings with large double height dining an dancing areas. For much larger weddings there's plenty of space for a marquee on the lawns. Country house style to a tee.
Back into Norwich for the next venue on our list – The Assembly House has been a meeting place in Norwich for centuries and if you prefer an urban setting for your wedding you can't really get more central Norwich than this. The Assembly House can cater for large and small weddings, and has recently added on some guest bedrooms if you would like to get ready or stay there after the wedding. There's plenty of outside space to enjoy some good weather and Chapelfield gardens or Norwich city centre are nearby for some couple photos. The Assembly House is also renowned for it's fantastic food under the watchful eye of head chef Richard Hughes.
The Best Norfolk Wedding venues
So that concludes my list of the best Norfolk wedding venues, I hope you found it informative and useful! Norfolk has lots of other great venues of course, and maybe I'll address some of them in a future post. You can take a look at some more Norfolk weddings including lots of weddings held at home on my Norfolk Wedding Photography page.